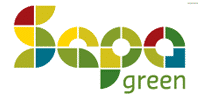 Kiest u ook graag voor een duurzame toekomst? Dan is Sepa Green een geschikte energieleverancier voor uw wensen. Sepa Green wil namelijk op een transparante en verantwoordelijke manier Nederland van energie voorzien. Hierbij het zich op een lokale (Nederlandse) energieproductie met een duurzaam kenmerk. Hierdoor werkt het niet alleen aan een duurzamere toekomst, maar ook aan een betrouwbare energievoorziening voor heel Nederland. Naast energie leveren aan consumenten biedt Sepa Green ook diverse zakelijke oplossingen. Kies ook voor een duurzame toekomst en stap over naar 100% groene stroom en CO2 gecompenseerd aardgas. Bereken in onderstaande module wat u gaat betalen.
Bedrijfsgegevens
Naam: SEPA Green Energy B.V.
Actief in: Nederland
Markt: Particuliere en Zakelijke
Adresgegevens:
M.H. Tromplaan 55
7513 AB Enschede
Vergunninghouder Elektriciteit: Ja.
Vergunninghouder Gas: Ja.
Lid geschillencommissie: Ja.
Betalingsgegevens
Acceptgiro: Niet mogelijk
Kosten: Niet van toepassing
Automatisch incasso: Mogelijk
Kosten 1e herinnering: Geen kosten
Voorschotsgegevens
Wijziging mogelijk: Ja.
Methode: Telefonisch.
Hoeveelheid: Niet bekend.
Verlaging: Niet bekend.
Verhoging: Niet bekend.
Online diensten
Via Mijn Dossier kunt u onder andere;
Uw meterstanden doorgeven.
Een verhuizing doorgeven.
Persoonlijke gegevens wijzigen.
Uw maandfactuur bekijken.
Uw energieverbruik bekijken.
Duurzaamheid
Sepa Green levert enkel 100% groene stroom uit Nederland. Daarnaast ontvangt u aardgas dan CO2 gecompenseerd is.
Budget Energie Zakelijk
Hebt u als ondernemer de focus op duurzaam ondernemen? Dan is Sepa Green Zakelijk een zeer geschikte energieleverancier voor uw bedrijf. Sepa Green is een duurzame energieleverancier die zich richt op het MKB en de Grootzakelijke energiemarkt. Lees hier meer over Sepa Green Zakelijk.
Sepa Green vergelijken
Met onderstaande vergelijker kunt u eenvoudig berekenen wat u per maand gaat betalen voor 100% duurzame stroom van Sepa Green. Voer nu uw verbruik in en check direct wat u betaalt voor stroom, gas of stroom en gas. Momenteel kunt u kiezen voor een energiepakket met een looptijd van 12 of 36 maanden. Hierbij profiteert u altijd van vaste tarieven. U hebt dus geen last van eventuele prijsstijgingen. Daarnaast ontvangt u altijd 100% groene stroom uit Nederland en gas dat CO2 gecompenseerd is.
Waarom kiezen voor Sepa Green?
Wanneer u via onze vergelijker kiest voor Sepa Green dan ontvangt u groene stroom uit Nederland. Lekker duurzaam dus. Daarnaast is uw aardgas zo groen als kan, het is namelijk CO2 gecompenseerd. Naast de levering van duurzame energie kunt u bij Sepa Green ook uitgaan van een prima service. Voor vragen of bij problemen kunt u altijd contact opnemen met de klantenservice. Deze bereikt u onder andere via +31 (0)88 0124800 of via info@sepagreen.nl. De klantenservice is op werkdagen van 09:00 tot 17:00 beschikbaar. Kies ook voor een duurzame toekomst en kies voor Sepa Green als uw energieleverancier!
| Voordelen | |
| --- | --- |
| Kies voor een scherp vast energietarief. | Ontvang altijd 100% energie uit Nederland. |
| Uw overstap wordt compleet voor u geregeld. | Meest groene gas (CO-2 gecompenseerd). |
| Altijd 14 dagen bedenktijd. | Ook voor ondernemers en bedrijven. |
| Prima klantenservice. | Vaste looptijd zonder prijsstijgingen. |
Overstappen naar Sepa Green
Wilt u ook overstappen naar Sepa Green? Dat is via onze website heel eenvoudig! Voer hierboven uw verbruik in en check direct wat u gaat betalen. Momenteel kunt u kiezen voor een energiepakket met een looptijd van 12 of 36 maanden. Verder zijn de energiepakketten eigenlijk identiek. Maak een keuze en klik op ''Direct aanvragen''.
Vul vervolgens het aanmeldformulier in. Hierbij hebt u onder andere uw persoons- en adresgegevens nodig. Binnen het formulier kunt u aangeven wanneer de het nieuwe energiecontract in moet gaan. Standaard staat dit ingesteld op na afloop van uw huidige contract. Wanneer alles gereed is kunt u uw formulier insturen en uw aanvraag afronden.
Na het inzenden van uw aanvraag ontvangt u direct een bevestiging per email. Vanaf dit moment gaan tevens uw 14 dagen bedenktijd in. Binnen deze bedenktijd kunt u altijd nog kosteloos annuleren. Wanneer uw bedenktijd verlopen is zal Sepa Green uw oude energieleverancier opzeggen. Hier hoeft u zelf niets voor te doen! Zelf hoeft u enkel eenmalig uw meterstanden door te geven. Zo eenvoudig is het! Bereken direct hierboven uw maandbedrag en stap over!
Op naar een duurzamer Nederland!
Sepa Green is altijd transparant over haar eigen producten. Zo levert het sinds 1 januari 2016 enkel nog 100% groene stroom. Daarnaast garandeert het altijd dat minimaal 20 procent, en maximaal 100 procent, van de geleverde energie duurzaam in Nederland opgewekt is. Dat dit zo is, is ook terug te zien op het bijgeleverde groencertificaat. En door verder te investeren in duurzame energieopwekking wil Sepa Green gaan voor een betrouwbare eigen energievoorziening. Waardoor op termijn alle benodigde duurzame energie uit ons eigen land kan komen.
Naast de duurzame energie die afkomstig is uit Nederland ontvangt u bij Sepa Green mogelijk ook duurzame energie uit andere Europese landen. Dit komt omdat Nederland onvoldoende duurzame energie opwekt om iedereen hiervan te kunnen voorzien. Zo kan er bijvoorbeeld energie afkomstig zijn van waterkrachtcentrales in Scandinavië. Daarnaast wordt er ook energie (aardgas) verduurzaamd door ter compensatie van de CO2 uitstoot bomen in Zuid-Amerika planten.
Energie salderen
Sepa Green moedigt consumenten aan om ook zelf duurzame energie te gaan produceren. Dit doet het onder andere via het eigen label Sepa Green Solutions. Om deze reden is de energieleverancier dan ook erg transparant over salderen en de geboden terugleververgoeding. Zo kunt u op de website van Sepa Green precies lezen wat u kunt verwachten. Als klant van Sepa Green saldeert u bijvoorbeeld altijd tegen het afgesproken leveringstarief. Wel zo eerlijk! En indien u meer produceert dan u verbruikt dan ontvangt u een terugleververgoeding. De terugleververgoeding is conform de levering, waarbij er indien er sprake is van dubbeltarief sprake is van dubbel terugleveringstarief. Check voor meer informatie over salderen de website van Sepa Green of stel uw vragen via het telefoonnummer 088-0124800.
Sepa Green opzeggen
Bent u momenteel klant bij Sepa Green en wilt u uw contract opzeggen? Doe dit dan op de voor u eenvoudigste manier. Wilt u overstappen naar een andere energieleverancier? Meldt u daar dan aan en geef aan dat u uw contract met Sepa Green wilt opzeggen. In dit geval zal uw nieuwe energieleverancier uw contract opzeggen. Wilt u helemaal geen energie meer ontvangen? Omdat u bijvoorbeeld gaat samenwonen of emigreren? Neem dan contact op met de klantenservice en geef aan dat u wilt opzeggen. In het geval van voortijdig opzeggen kunt u wel met een opzegvergoeding te maken krijgen. Hieronder vindt u de gegevens van de klantenservice.
Verhuizen
Wanneer u gaat verhuizen dan is het belangrijk dat u uw verhuizing tijdig doorgeeft. Dit kunt u doen via de Sepa Green klantenservice. Over het algemeen wordt aangeraden om dit minimaal twee weken voor de sleuteloverdracht te doen. Wanneer dit allemaal op tijd geregeld is dan zal uw energiecontract gewoon met u meeverhuizen. Een energiecontract is namelijk persoon gebonden en niet adres gebonden. Tijdens uw verhuizing zal het onder andere belangrijk zijn om uw meterstanden juist door te geven. Zo kan er namelijk een goede eindafrekening op uw oude adres gemaakt worden.
Sepa Green Klantenservice
Hebt u een vraag? Of bent u op zoek naar meer informatie? Neem dan contact op met de klantenservice van Sepa Green.
Adres: M.H. Tromplaan 55 7513 AB Enschede
Telefoon: +31 (0)88 0124800
Email: info@sepagreen.nl
Ervaringen met Sepa Green
Hebt u ervaring met Sepa Green? Laat deze dan achter en help andere consumenten met het vinden van een nieuwe energieleverancier. Na goedkeuring door de redactie zal uw beoordeling online verschijnen. Benieuwd wat andere over Sepa Green zeggen? Check hieronder de laatste reviews!
Laat nu een review achter en maak kans op een €100,00 Bol.com cadeaukaart!
---
---
Sepa Green
SKU
UPC
Model
Heb peroonlijk een erg goede ervaring met Sepa. Vorige energieleverancier maakte overal een potje van dus het werd tijd voor iets nieuws. Overstap ver
Jun 02, 2017
by
Anoniem
Naam: Ron •
Titel: Tevreden
Heb peroonlijk een erg goede ervaring met Sepa. Vorige energieleverancier maakte overal een potje van dus het werd tijd voor iets nieuws. Overstap verliep heel eenvoudig en alle communicatie verloopt zoals het hoort. Daarnaast vind ik het prettig dat de energie duurzaam en uit NL is. Top!

---