Energieleverancier Fenor biedt energie voor particuliere en zakelijke klanten. Het maakt dus niet uit of u een bedrijf heeft, of gewoon energie voor uw woning nodig hebt. Fenor biedt altijd een passend product voor uw situatie. In onze energievergelijker vindt u momenteel twee energieproducten van Fenor. Beide energiepakketten bieden een vaste lage prijs voor stroom en gas. Het 1 Jaar Vast energiepakket doet dit voor een looptijd van 12 maanden. Wanneer u kiest voor het 3 Jaar Vast pakket dan profiteert u 36 maanden van deze vaste lage tarieven. Benieuwd wat u gaat betalen? Maak dan gebruik van onderstaande energievergelijker!
Bedrijfsgegevens
Naam: Fenor B.V.
Actief in: Nederland
Markt: Particuliere en Zakelijke
Adresgegevens
Mercurius 6, 8448 GX Heerenveen
Postbus 325, 8440 AH Heerenveen
Tel. 085 – 77 33 120
Fax. 085 – 77 33 121
Email. klantenservice@fenor.nl
KvK nr 53 95 68 26
BTW nr NL 8510.89.513 B01
Vergunningen
Vergunninghouder Elektriciteit: Ja.
Vergunninghouder Gas: Ja.
Lid geschillencommissie: Ja.
Betalingsgegevens
Acceptgiro: Niet mogelijk
Kosten: Niet van toepassing
Automatisch incasso: Mogelijk
Kosten 1e herinnering: Geen kosten
Voorschotsgegevens
Wijziging mogelijk: Ja.
Methode: Via klantenservice.
Hoeveelheid: Maximaal 12 keer.
Verlaging: Maximaal 15%.
Verhoging: Maximaal 100%.
Online diensten
Via de website van Fenor kunnen consumenten onder andere facturen bekijken en downloaden. Daarnaast is het ook mogelijk om uw meterstanden door te geven en uw jaarverbruik te checken.
Duurzaamheid
Elektriciteit die Fenor levert is ''vergroend'' door middel van GVO's (Garanties van Oorsprong). Vaak is deze elektriciteit afkomstig uit bijvoorbeeld waterkrachtcentrales in Scandinavië. Het aardgas dat door Fenor wordt geleverd is grijs, en dus niet extra duurzaam. Al met al is Fenor niet heel duurzaam aangezien de gekochte energie niet meehelpt aan een beter milieu in Nederland. Benieuwd naar meer informatie over de geleverde stroom en gas? Of benieuwd wat voor kosten en tarieven gepaard gaan met deze energieproducten? Check dan de energievergelijker en de leveringsovereenkomst die u kunt terug vinden in de vergelijkingstool.
Fenor Zakelijk
Energieleverancier Fenor levert ook energie aan het MKB en Grootzakelijke klanten. Via de website van Fenor kunt u hiervoor een offerte op maat aanvragen. Fenor zal dan binnen 48 uur contact met u opnemen voor een aanbieding op maat.
Fenor vergelijken
Wilt u alle energiepakketten van Fenor met de markt vergelijken? Dat kan! Maak dan gebruik van onderstaande vergelijker. Voer hieronder uw verbruik in en klik op het logo van Fenor. Dan vergelijkt u enkel de energiepakketten van energieleverancier Fenor. Wilt u Fenor ook vergelijken met andere energieleveranciers? Klik dan niet het Fenor logo aan maar laat alle energieleveranciers in de vergelijker terug komen. Zo ziet u direct waar u het goedkoopste uit bent!
Direct naar;
Waarom kiezen voor Fenor?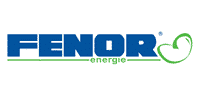 Fenor is kleinschalige energieleverancier uit Friesland. Om deze reden zult u dan ook niet lang in de wacht staan aan de telefoon. Het bedrijf richt zich vooral op de zakelijke markt, maar ook consumenten krijgen de volle aandacht. Alle contactgegevens zijn eenvoudig te vinden op de website en ook via de email is Fenor goed te bereiken. Uit meerdere reviews blijkt dat het personeel klanten echt centraal stelt en altijd accuraat en aardig reageert via de telefoon. Naast de service biedt Fenor gewone energie tegen eerlijke tarieven. Waardoor de energieleverancier vaak gemiddeld goedkoop in onze energievergelijker is. Kort om, Fenor is een echt no nonsens bedrijf met eerlijke prijzen voor stroom en gas.
| Voordelen | |
| --- | --- |
| Scherpe tarieven voor stroom en gas. | Online omgeving voor facturen en verbruik. |
| Gewoon normale energie. | Ook voor zakelijke klanten. |
| Nuchtere aanpak en benadering. | Eenvoudig en snel overstappen. |
| Prima klantenservice. | Meer dan 30 jaar ervaring. |
Geschiedenis Fenor
Fenor werd pas in 2012 opgericht maar heeft toch al ruim 30 jaar ervaring binnen de energiemarkt. Deze relatief nieuwe speler werd namelijk opgericht door 2 ondernemers met elk meer dan 30 jaar ervaring binnen de markt. Hierdoor heeft Fenor veel expertise in huis en kan het ondernemers en particuliere goed adviseren op het gebied. Niet voor niets staat deze energieleverancier bekend om kostenonderzoeken en consultancy. Met de nuchter no-nonsense aanpak richt Fenor zich voornamelijk op de particuliere en zakelijke markt in Noord Nederland. Hierbij focust het bedrijf zich op de kernwaarden scherp, eenvoudig en betrokken. Zo profiteren klanten altijd van scherpe prijzen, een simpele overstap en een betrokken aanpak. Kies ook voor deze nuchtere energieleverancier en stap vandaag nog over!
Overstappen naar Fenor
Wilt u ook kiezen voor gewoon normale energie van Fenor? Dat kan eenvoudig en snel via onze vergelijker! Voer hierboven uw verbruik en woongegevens in en bekijk meteen hoe voordelig Fenor voor u uitpakt. Tevreden met het aanbod? Kies dan voor de optie ''Aanvragen''. Voer vervolgens enkele gegevens in om uw aanmelding te starten en accepteer de tarieven en voorwaarden. Rond uw aanvraag vervolgens af wanneer u zeker bent van het gekozen product.
Na uw aanmelding zal uw bedenktijd in gaan. U hebt altijd recht op 14 dagen bedenktijd na ontvangst van uw contractbevestiging. Binnen uw bedenktijd kunt u uw aanmelding bij Fenor altijd nog kosteloos annuleren. Zonder opgaaf van reden!
Wanneer uw bedenktijd is verstreken zal Fenor uw eventuele oude energieleverancier opzeggen. Zelf hoeft u enkel eenmalig uw meterstanden door te geven. De rest wordt allemaal voor u geregeld. Zo eenvoudig is het! Voer ook uw verbruik in en check direct wat u gaat betalen!
Energieproducten Fenor
Momenteel kunt u via onze vergelijker kiezen voor een energiepakket met een looptijd van 12 of 36 maanden. Gedurende deze complete looptijd zult u dezelfde tarieven voor stroom en gas betalen. U hebt dus geen last van eventuele prijsstijgingen. Via onze vergelijker kunt u zelf kiezen of u alleen stroom, alleen gas of stroom en gas wilt afnemen. Afhankelijk van uw situatie is er dus altijd een passend energieproduct in onze vergelijker te vinden!
Fenor opzeggen
Wilt u uw energiecontract met Fenor opzeggen? Dat is tegenwoordig heel eenvoudig! Wilt u overstappen naar een andere energieleverancier? Dan zegt die uw oude energiecontract met Fenor op. Hier hebt u zelf geen omkijken naar. Stapt u niet over maar heeft u helemaal geen energieleverancier meer nodig omdat u bijvoorbeeld samen gaat wonen? Neem dan contact op met de klantenservice en zeg op deze manier uw contract op. Wanneer uw contract nog niet verlopen is dan moet u wel rekening houden met een opzegvergoeding.
Ervaringen met Fenor
Hebt u ervaring met Fenor? Laat deze dan achter en help andere consumenten met het vinden van een nieuwe energieleverancier. Na goedkeuring door de redactie zal uw beoordeling online verschijnen. Benieuwd wat andere over Fenor zeggen? Check hieronder de laatste reviews!

Laat nu een review achter en maak kans op een €100,00 Bol.com cadeaukaart!
---
---
Fenor
SKU
UPC
Model
Tot nu toe erg tevreden met mijn overstap naar FENOR. Overstap soepel verlopen en goed geholpen via de servicelijn met een vraag die ik had. Ook de pr
Jul 19, 2017
by
Anoniem
Naam: Bakker •
Woonplaats: - •
Titel: Tevreden klant
Tot nu toe erg tevreden met mijn overstap naar FENOR. Overstap soepel verlopen en goed geholpen via de servicelijn met een vraag die ik had. Ook de prijzen lijken me in orde aangezien ik voordeliger uit ben dan bij mijn vorige leverancier.

---